There is no doubt the succulents craze has taken over the floral and gardening world! These wonderful plants are appearing in everything from the kitchen windowsill to living walls, fairy gardens and even as trendy wedding decor and accessories! Have they made their way into your life yet?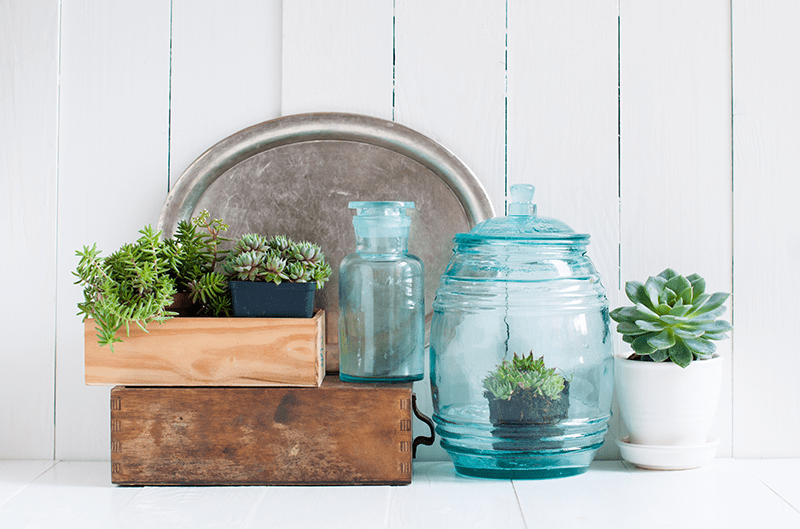 The reasons for their appeal are many, but mainly, succulents are low maintenance and can survive for long periods of time without water. The variety of texture, color and form make them not only fun to collect, but also serve to fulfill our creative needs.
A species of plants that get their name from the Latin word "sucus," which means juice or sap, succulents store water in their roots, leaves or stems. Most succulents originate from dry, desert areas where it is this natural, adaptive habit that gives them a swollen, fleshy or "succulent" appearance.
Most of us are familiar with the popular Aloe vera, a succulent juice used for centuries for it's medicinal properties. While not all succulents offer the same healing benefits of Aloe vera, their purpose has become widely diverse.
Living succulent walls are a wonderful way to create an organic environment in a home, on the patio or even as a temporary installation at an event. For weddings, brides are choosing succulents for centerpieces or guest favors, as well as living headpieces, bouquets and boutonnieres. As a dish garden or terrarium, they bring zen to the office environment. And even exotic pet stores are now using succulents for reptile enclosures!
As indoor houseplants, succulent care is relatively simple. Keep potted succulents in a sunny spot and water sparingly.  For the New England gardener, succulents can be grown outdoors seasonally, like any other tender annual plant. The array of colors, shapes and textures can be complementary among your other annuals or perennials. While they can thrive here in the proper soil outdoors for the summer, keeping them in a container will make the move indoors much easier when fall arrives.
For the artist, try arranging succulents to bring your design visions to life. Take a look at my recent succulent design on display here at the Studley's Garden Center!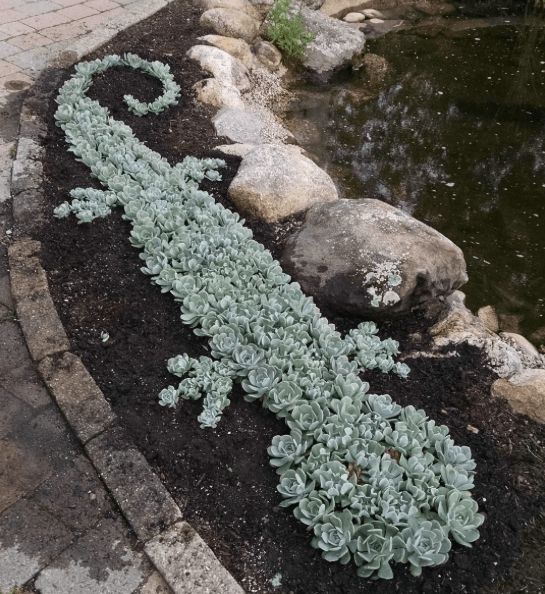 The key to growing succulents is to just do it! I assure you, there is very little you can do wrong with these wonderful little plants! Visit Studley's Garden Center for a wide selection and pro advice onsite. We'll be happy to get you started on your new hobby!
Our Plant Mail Order Service also offers dozens of varieties and collections of succulents to choose from. Visit houseplants.studleys.com, buy online and we'll shop them right to your door, complete with care instructions.
My Pro Tip:
Start experimenting with a small dish garden. Choose 3-5 small plants of different textures and growth habits. Select a shallow container, wide enough to host your plant selections, and make sure it has drainage holes. Fill it with a specially formulated succulent potting mix, or make your own with a mix of 1:1 potting soil and perlite. Add your plants, cover the bare soil with pea gravel and lightly water them in. Place your succulent dish garden in a sunny location and allow the soil to dry out thoroughly between watering.
If you are ambitious, succulents are easy to propagate to grow your collection or share with a friend!
See you at Studley's!